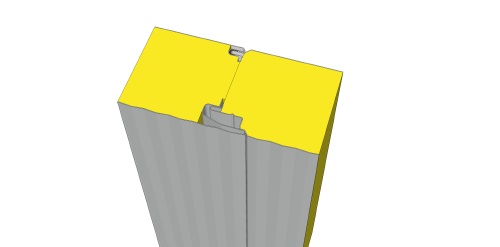 The Metfiber® Eco HF Wall panel with glass wool core and joint-geometry for hidden fixing fulfils all the requirements for non-combustible building materials and is excellently suited for both vertical and horizontal installation. The glass wool used in this product consists of 80% recycled material, thus contributing significantly to the saving of natural resources and making the product an ecological building material.
The deadweight of the panel is distinctly lower than that of conventional sandwich panels with rock wool insulation core, hence enabling an easier, faster installation and cost reduction, especially for longer panels.
For buildings exposed to high wind-suction, a horizontal single-span installation is recommended, so possibly needed visible fixing-screws may be covered by pilaster profiles.
Due to the large number of combinations with other panels from our portfolio with polyurethane or rock wool insulation core, it is possible to reach fire-safety, acoustic and thermal requirements at once without any visual impact.
Please have a look at our detailed technical manual for further information.
read more >>
---